Tips for Advocates and Other Victim Service Providers
The documents found on this page are available for Victim Service Providers. The documents will assist and aid in developing and setting up victim assistance office policies and procedures as well as aid in tracking victim services. The Office of the Attorney General, Department of Crime Victim Compensation will periodically update this section to provide tips and tools to assist Victim Service Providers statewide. Please feel free to download any of the documents and alter as needed for your program.
If you are a Court Based Victim Advocate in the Solicitor's Office, you may download the Department of Crime Victim Compensation's Office of Victim Assistance Funding Financial & Programmatic Report for Victim Services and use it to assist in preparing the required annual report. However, you are asked not to alter this report and to be as detailed as possible when filling out the report.
Jump to Section
Outreach Displays
2018
2018
South Carolina Human Trafficking Youth Advocacy Summit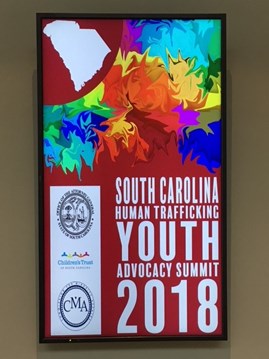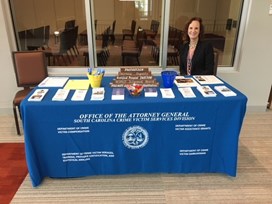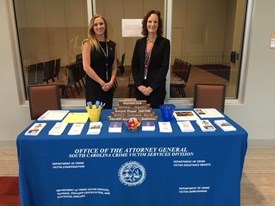 2017
2017
Building Trust in our Family & Community Event – Sponsored by Clemson Police Department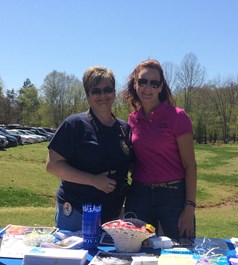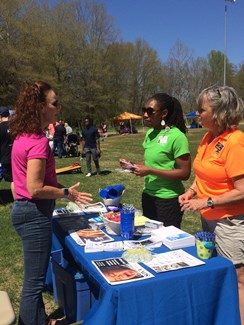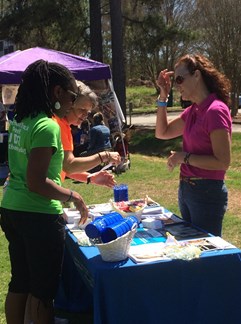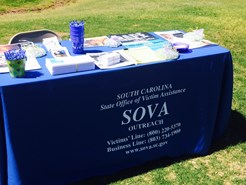 SC Funeral Directors Association Mid-Winter Conference & Expo

2016
2016
National Crime Victim Rights Week Community Fair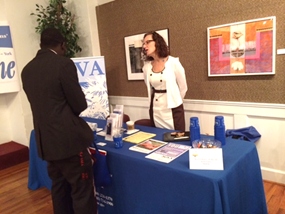 Resources for Providers
In an effort to ensure proper documents are received and payment for crime victim compensation claims are processed in a timely manner, DCVC has developed a booklet that provides information, guidance and assistance to service providers that includes various forms, policies and procedures regarding the payment process.
Download Payment & Reimbursement Guide
Sexual Assault Forms
Exposed HIV Victims
Counseling Changes
Monthly E-Blasts
2019
Monthly Sexual Assault E-blasts
2018
Monthly Sexual Assault E-blasts
Quarterly Hospital Update Eblasts